Carmel Software Partner List
Partner List
Member Organizations

ASME - American Society of Mechanical Engineers

USGBC - United States Green Building Council
HVAC Related Sites
AGCC - American Gas Cooling Center
ARI - Air Conditioning Refrigeration Institute
ASHRAE - American Society of Heating, Refrigerating, Air-Conditioning Engineers
RACCA - Refrigeration & Air Conditioning Contractors Association of Australia
AIRAH - Australian Institute of Refrigeration Air Conditioning & Heating
ASHI - American Society of Home Inspectors
BOMA - Building Owners and Managers Association International
GRI - Gas Research Institute
GHPC - Geothermal Heat Pump Consortium
IEA - International Energy Agency
IGSHPA - International Ground Source Heat Pump Association
MCAA - Mechanical Contractors Association of America
MSPE - Missouri Society of Professional Engineers
NAHB - National Association of Home Builders
NAPHCC - National Association of Plumbing Heating Cooling
NFSA - National Fire Sprinkler Association
NSPE - National Association of Professional Engineers
Refrige.com - HVAC & Refrigeration news, events, training, books, magazines and directory online.
RSES - Refrigeration Service Engineers Society
Government Agencies
California State Energy Office
Florida State Energy Office
Florida Solar Energy Center / Building Design Assistance Center
ISO - International Standards Organization
National Climatic Data Center
NIST - National Institute of Standards
Periodicals
Business News Publications List
Business News Publications - Engineered systems
Business News Publications - The News
Buildings Online
Construction & Computer Newsletter
Consulting-Specifying Engineer Magazine - updated weekly
Engineering News-Record
Western HVACR News
HVAC/R News
Plumbing and Mechanical magazine
HVAC Manufacturers
Aaon Corp
AJ Manufacturing
American Standard Heating and Air Conditioning
Benmar Conditionaire
Carnes - air distribution products
Carrier - Resid. Dealers
Concepts and Designs, Inc.
Cleaver Brooks - boilers
Ductmate - air distribution ducting
ECR Technologies- Geothermal, GeoExchange ground source heat pumps
Greenheck Fans uc
Grundfos Co. - hydronic pumps
Hevenair - vendor info
Ingersoll Rand - hydronic pumps
Johnson Controls
Lennox Co. - unitary - resid.
Liebert Co. - computer room - unitary
Linric Co. - desicant dehumid.
Mammoth Co. - ahu's
Marley Co. - cooling towers
McQuay Int'L. Unitary - applied systems - controls
Mitsubishi Electric Cooling and Heating
Nautica Co. - dehumidification
Rheem Air Conditioning
Rinnai America
Ruud Air Conditioning
Seiho - air distribution products
Seibu Giken America
Tgk Consultants - chillers
Titus - air distribution products
Trane Co. Unitary - applied systems - controls
York International Unitary - applied systems - controls
Other
Builderconstructor.com - Building industry directory
InspectAPedia: Diagnose & Fix Building & Indoor Environment Problems
National Association of Home Inspectors
---



Foundation Software, Inc.
Foundation(r) for Windows(r) is the number one job cost accounting software for labor-intensive contractors. Offering fully integrated job cost accounting, project management and scheduling, the system is fully date-sensitive, maintains a complete audit trail, and with a Microsoft SQL database provides for powerful, customizable construction reporting.



---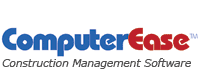 ComputerEase
ComputerEase has been on the front line of the construction management and accounting software industry for 25 years. ComputerEase Construction Management Software has frequently set the standards that our competitors strive to meet.